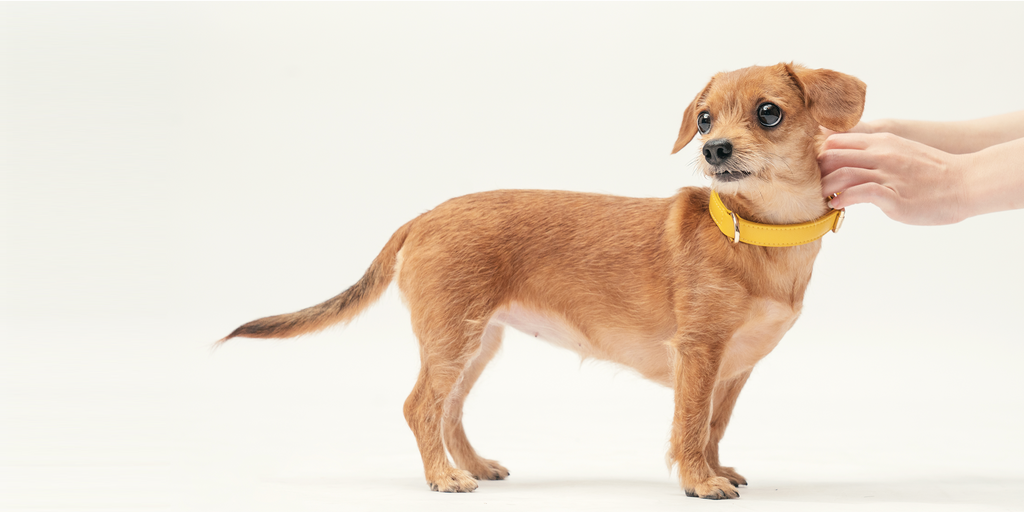 Prong collars can be a pokey subject, and it's easy to see why. With rows of spikes and a metallic glint, these collars just look plain mean. Not only do prong collars get a negative rap, many people believe the dogs that wear them are vicious, 'hard to control,' or aggressive. So, is there any truth to these ideas? While prong collars may not be the most stylish dog accessory, when used correctly, they are safe and can be a helpful training tool.
The Basics of Collar and Leash Safety
You're probably aware that a dog's neck is extremely strong. That's why collars have been the dominant tethering spot for dogs for centuries. According to PetMD, a dog's neck can also be vulnerable to injury including damage to the thyroid, neck tissue, and throat.
So, how can you ensure your dog's collar won't cause your dog a pain the in the neck?
For traditional collars, follow the age-old two-finger rule. Your dog's collar should fit securely enough that she can't back out of it but can comfortably breathe, wiggle, and shake.
For prong collars, the fit is even more important. A prong collar should sit just below where your dog's head meets her neck. If it's just above her shoulders, it's too low. Unlike regular collars, you can't just slip it over your dog's head before a walk. It must be latched and unlatched for each use.
It can be tricky to properly fit a prong collar, so have it professionally fitted to take any guesswork out of the process.

How Does a Prong Collar Work?
You know when your dog decides to take off at a squirrel, gets to the end of her leash and is suddenly jerked back? This habit can really hurt your dog. Prong collars actually prevent this. How? These collars apply gradual, even pressure all the way around a dog's neck, so she doesn't get to the of the leash to find herself violently choked. And prong collars are a form of martingale collars which means they cannot completely constrict.
Do Prong Collars Hurt Dogs?
Prong collars don't feel like being hugged by little dog fairies, but they are more uncomfortable than painful when a dog tugs at the leash. As a prong collar tightens, it feels more like a pinch than a gouge.
When Should A Dog Parent Consider Using a Prong Collar?
Like most training tools, prong collars work better for certain situations and some dogs. Because prong collars use negative reinforcement, you will want to talk to a trainer to find out if your dog is a good candidate and how you can use it to help train your dog.
Some situations where prong collars can be useful include
When medium, large, or giant dogs pull non-stop
When an owner opts to not walk their dog because she pulls (and the dogs lacks exercise because of this).
When an adult dog has never learned to walk on-leash
When not to use a prong collar:
Most trainers and veterinarians recommend avoiding prong collars for petite pooches. Their necks just aren't strong enough and it's not worth the risk of injuring a tiny dog's fragile neck.
To Prong or Not to Prong?
Ultimately, it's your choice how you train your dog. Keep in mind that a prong collar is strictly for walks and training. As long as you use a prong collar correctly, then you won't risk hurting your doggo. If you're worried, ask a trainer!
Your dog should also wear a regular collar with her tag, so if she gets lost, loose, or sneaks away, she can be safely returned. Plus, your pup will appreciate something a bit more friendly and stylish than silver spikes.